NeroForce Handheld 20W Static Fiber Laser EVO, LCD Screen, Linux, 230V
| | |
| --- | --- |
| Article number: | "NF-L20E EVO" |
Shipping within 48h (for items on stock)

Prices by PU / ex Warehouse Germany

Worldwide delivery

Hotline: +49 731 14414 20
Information
NEW EVO SERIES 
If this product is out of stock, delivery time is approx: 8-10days
Upgrades vs. 1.Generation:
The new, revised EVO series is significantly lighter than the 1 st generation: The weight has been reduced to 9kg (9.8kg battery version)
The new very compact High Speed Galvanometer Scanner enables even faster, high-precision focusing of the laser head
The durable and service free design makes it an industrial laser marker of highest quality and reliability
Air-cooled, no water cooling necessary, Power consumption significantly more efficient and economical 
Users appreciate the mobility as well as its wide range of use, even on components and machines that do not fit into encapsulated or automated marking systems. As with the 1st generation mobile laser, this unit is particularly suitable for on-site use on construction sites or at external locations.
Convincing arguments:
Long-term stable operation

Sophisticated components for high standard operation
Power-On and ready-to-use operation with zero maintenance costs
Mobile designs enable a wide range of use such as construction sites or external locations, even on components and machines that cannot be marked in encapsulated or automated systems

Easy to operate

Smart touch screen panel
Self-explanatory software
Password setting to prevent from unauthorized usage
Supports various languages, one-button marking
Entering data via Bar/QR code reader possible

High-Tech Design

Light weight body made of high-density materials
Quarz high-transmittance coated field lens expands the marking field 
Techn. Specifications:
Transportable, mobile & compact design weight 9kg (Battery version 9,8kg)
Max size of marking: 100x100mm
230V (110V under preparation)
Wavelength 1064nm (Pulse)
Warranty: 18 months
Lifetime of LASER unit approx. 100.000h
CE marked
Shipping Box: 60x40x38cm 
Battery powered version:
This specific Version comes with an integrated rechargeable battery. This enables the laser to be used without any external power supply cable connected. Operation time / battery power approximately 3h. The machine has a outside charging display, as well as in the software integrated capacity display in %. Charging Time: 2.5 - 3 hours.
NOTE: Battery to be considered as hazardous - International Shipping may generate additional costs
Application:

Applies within seconds individual logo files (jpeg, png, etc), QR Code, graphics, date, serial numbers, etc. on various materials: 
Rubber Products / Tyres / Conveyor belts
Hardware / Metal / Tools
PVC / PU / Plastic
Coated Surfaces
Coated Cartons
Aluminum products, cases, frames, etc.
 
Easy operation: 
Self explanatory, easy software - Multi-language (English, German, French, Spanish, Italian).
Via the built-in Touchscreen with easy software individual QR, Bar Codes or Serialnumbers can be edited, saved and marked upon need. Logo's, graphics can be transferred via USB stick. Your data files can be saved on the machine as well as external on USB stick or a external hard drive (not included).
Demo Videoclip (Tyre marking):
Demo Videoclip (Logo on Aluminium):
Set contains: 
Laser unit equipped with Protection Cover 100x100mm incl. 4 templates and required tools for mounting/demounting, Charging Cable, 2 pc Touchpens, Replacement screen protections, Manual in English&German. 
Payment method:
50% down payment with order, remaining amount due 14days net from date of dispatch
Please note:
Laser Class 4 product
High Performance Material Processing Laser
Country specific safety regulations may apply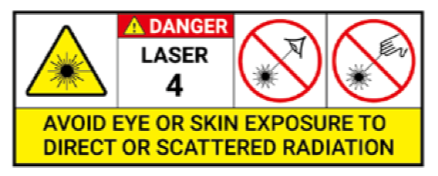 Note about Integration / Interfaces:
In the event you look for a laser marker which shall be integrated into your Production line, or controlled via your ERP System, production software - we do promote our stationary Laser Marker System NF 3000i. This powerful system does offer a number of different interfaces which enables the individual fully automated control / operation:  https://www.neroforce.com/en/stationary-high-performance-laser-marking-machine.html
Reviews
No reviews found
Read or write a review